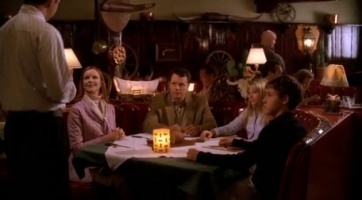 Четвертая часть первой серии.

Если Вы не смотрели начало серии – рекомендем посмотреть, т.к. слова, встречавшиеся там – уже не разбираются.

Three days after my funeral, Lynette replaced her grief with a much more useful emotion – indignation.
Через три дня после моих похорон, Линетт заменила свое горе более полезной эмоцией – негодованием.
– Tom, this is my 5th message and you still haven't called me back.
Well, you must be having a lot of fun on your business trip. I can only imagine.
Том, это мое пятое сообщение, а ты все еще мне не перезвонил.
Ну, тебе должно быть невероятно весело в своей деловой поездке. Могу только представить.
Well, guess what, the kids and I wanna have some fun too, so unless you call me back by noon, we are getting on a plane and joining you.
Ну, угадай, что – дети и я тоже хотят повеселиться, так что, если не перезвонишь мне к полудню, мы садимся на самолет и летим к тебе.
– Mom!
– Not now, honey, Mommy's threatening Daddy.
– Mom!
– No, I am not… Where're your brothers?
– Noodles, my favorite!
Мам!
Не сейчас, милый. Мамочка угрожает папочке.
Мам.
Нет, Я не … где твои братья?
– Лапша, моя любимая.
– Lynette Scavo?
– Crap. Natalie Klein, I don't believe it!
– Lynette! How long has it been?
– Years! Uh, how are you, how's the firm?
– Good, everyone misses you.
Линетт Скаво?
Дерьмо. Натали Клейн. Поверить не могу.
Линетт. Сколько времени прошло?
Годы. Э, как ты? как фирма?
Хорошо. Все скучают по тебе.
– Yeah.
– We all say, if you hadn't quit, you'd be running the place by now.
– Yeah, well.
– So… how's domestic life? Don't you just love being a mom?
Да.
Все говорят, если бы ты не ушла, всеми бы уже там командовала.
Да, ну…
Так… как домашняя жизнь? Разве тебе не нравиться быть матерью?
run – to organize or be in charge of an activity, business, organization, or country:
For a while, she ran a restaurant in Boston.
And there it was – the question that Lynette always dreaded.
– Well, to be honest…
To those who asked it, only one answer was acceptable. So, Lynette responded as she always did – she lied.
– It's the best job I've ever had.
И вот он – вопрос, которого Линетт всегда боялась.
– Что же, по правде говоря…
Для тех, кто его задает, есть лишь один приемлемый ответ. Так что Линетт ответила также как и всегда – она соврала.
– Это лучшая работа, что у меня была.
dread [dred] – to feel anxious or worried about something that is going to happen or may happen:
I've got an interview tomorrow and I'm dreading it.
– You know what I don't get?
– What?
– Why you married Mr. Solis.
– Well, he promised to give me everything I've ever wanted.
– Well, did he?
– Yes.
Знаешь, чего я не пойму?
Чего?
Зачем вы вышли за мистера Солиса.
Ну… он обещал дать мне все, что я захочу.
И дал?
Да.
get – (informal) to understand something:
I don't think she got the joke.
– Then… why aren't you happy?
– Turns out I wanted all the wrong things.
– So. Do you love him?
– I do.
– Well, then, why are we here? Why are we doing this?
Тогда почему вы не счастливы?
Выяснилось, что я хотела не того.
Так вы любите его?
Люблю.
Ну, тогда, зачем мы здесь? Зачем мы это делаем?
turn out (phrasal verb) – to happen in a particular way, or to have a particular result, especially one that you did not expect
To my surprise, it turned out that I was wrong.
– Because I don't wanna wake up some morning with a sudden urge to blow my brains out.
– Hey, can I have a drag?
– Absolutely not. You are much too young to smoke.
Потому что я не хочу однажды проснуться с неожиданным желанием пустить себе пулю в лоб.
Эй, могу я затянуться?
Разумеется, нет. Ты еще слишком молод, чтобы курить.
urge [ɜːʤ] – a strong wish or need (= desire) (побуждение, порыв, сильное желание)
He could no longer resist the urge to go and see Amanda.
blow your/somebody's brains out – to kill yourself or someone else with a shot to the head
drag – the act of breathing in smoke from your cigarette:
Frank took a drag on his cigarette.
– How would you feel about me using your child support payments for plastic surgery?
– Stop being so nervous, you're just asking him out to dinner. It's no big deal.
Как ты относишься к тому, чтобы я потратила твои алименты на пластическую хирургию?
Перестань так нервничать. Ты просто пригласишь его на ужин. Делов то.
child support – алименты на ребёнка
– You're right. So, is that your project for school? You know in 5th grade I made the white house out of sugar cubes.
– Stop stalling and go. Before Mike figures out he can do better.
Ты права. Так, это твой школьный проект? Знаешь, когда я была в пятом классе, я сделала
Белый Дом из кусочков сахара.
Прекрати увиливать и иди, пока Майк не выяснит, что может найти и получше.
stall [stɔːl] – (informal) to deliberately delay because you are not ready to do something, answer questions etc:
Quit stalling and answer my question!
– Tell me again why I fought for custody of you?
– You were using me to hurt Dad.
– Oh, that's right.
– Oh god.
Повтори, зачем я боролась за твое опекунство.
Ты использовала меня, чтобы насолить папе.
O, точно.
O, боже.
custody ['kʌstədɪ] – the right to take care of a child, given to one of their parents when they have divorced
He got custody of his son after the divorce.
– Hi.
– Hey, Susan
– Are you busy?
– No, not at all, what's up?
– Well, I., I just was wondering, if, um, if there was any chance that, um, you would uh… I just… wanted to ask if…
– Привет.
– Эй, Сьюзан.
– Ты занят?
– Нет, вовсе нет. Что случилось?
– Ну, я – я просто, э, интересовалась, если, есть ли какой шанс, что ты, э…Я-я просто хотела попросить о…
– Edie. What are you…?
– I was making ambrosia, and I made too much so I thought I'd bring some over to Mike. What's going on?
– Эди. Что ты..
– Я делала "амброзию", и я сделала слишком много, так что я подумала, что принесу немного Майку. Что происходит?
ambrosia [æm'brəuzɪə] – десерт из тёртого кокосового ореха и апельсинов
– Uh, Susan was just about to ask me something.
– Uh… I have a clog.
– Excuse me?
– And you're a plumber. Right?
– Yeah
Сьюзан собиралась спросить меня о чем-то.
У меня засор.
– Прости, что?
– А ты водопроводчик, верно?
Да.
– The clog's in the pipe.
– Yeah, that's usually where they are.
– Well, I've got one.
– Well, let me get my tools.
– Now? You wanna come over now? You have company.
– I don't mind.
– Just give me 2 minutes. I'll be right over.
Засор в трубе.
Да, обычно там они и бывают.
Ну, вот у меня один такой.
O, ладно. Ну, э, дай мне взять мои инструменты.
Сейчас? Ты хочешь прийти сейчас? Ты же не один.
Я не возражаю.
Да, просто дай мне 2 минуты. Я буду прямо сейчас.
– That's it, just stuff the hair down
– I stuffed it; it's not enough to clog it.
– Here, here, look. Put in this peanut butter. And this cooking oil. And these olives!
– Mom, Mom I'm telling you it's not working.
– Uh, oh god. That's him. How am I gonna stuff up the sink…
Вот оно. Просто засунь туда волосы.
Я их засовывала. Их недостаточно, чтобы забить трубу.
Вот. Хорошо, смотри. Положи туда это арахисовое масло и это масло для жарки. И эти оливки.
Мам, я говорю тебе, не получается.
O, боже. Это он. Как же мне застопорить раковину?
– Well. Here's your problem. Looks like somebody stuffed a bunch of Popsicle sticks down there.
– I've told Julie a million times not to play in the kitchen. Kids, you know.
Что ж, вот ваша проблема. Похоже, кто-то засунул туда целую связку палочек для мороженого.
Я тысячу раз говорила Джули не играть на кухне. Дети, понимаешь?
Popsicle – (American English trademark) a food made of juice that is frozen onto sticks (= ice lolly British English)
– Alright, I'll go put in your order. I'll be right back with your drinks and your plates for the salad bar.
– Thank you.
– Andrew, Danielle, napkins?
– They have video games. Can we go play until our food gets here?
– Andrew. This is family time. I think we should all…
– Go ahead and play.
Ладно, я пойду, добавлю ваши заказы, и затем вернусь с вашими напитками и тарелками для салат-бара.
Спасибо.
Эндрю, Даниель, салфетки?
У них есть видеоигры. Можно пойти поиграть, пока не принесли еду?
Эндрю, это время семьи. Я думаю, нам всем следует..
Идите, поиграйте.
napkin ['næpkɪn] – a square piece of cloth or paper used for protecting your clothes and for cleaning your hands and lips during a meal
– I know that you think I'm angry about coming here, but I'm not. I mean, the kids wanted a change of pace, something fun. I get it.
Probably will want something healthier tomorrow night though, I'm thinking about chicken saltimbocca
– I want a divorce. I just can't live in this… this detergent commercial anymore.
Я знаю, ты думаешь, что я сердита, потому что мы пришли сюда, но это совсем не так. Я имею ввиду, что дети хотели смену обстановки, что-нибудь веселое. Я все поняла.
Возможно, у нас завтра вечером будет какая-нибудь более здоровая пища. Я подумываю о цыпленке Сальтимбокка.
Я хочу развода. Я просто больше не могу жить в этой … этой рекламе моющего средства.
detergent [dɪ'tɜːʤ(ə)nt] – a liquid or powder used for washing clothes, dishes etc
– The salad bar's right over there, help yourself.
– Thank you
– Um. Think I'll go get your salad for you.
– Салат-бар прямо там. Угощайтесь.
– Спасибо.
Мм, я думаю, пойду, возьму тебе салата.
help yourself (to something) – to take some of what you want, without asking permission – used especially when offering food to someone:
Please help yourself to some cake.
– Bree Van De Kamp!
– Oh, hello Mrs. Huber.
– Oh we didn't get a chance to talk at Mary Alice's wake. How are you doing?
Bree longed to share the truth about her husband's painful betrayal, but sadly for Bree, admitting defeat was not an option.
Бри ван де Камп.
О. Здравствуйте, миссис Хьюбер.
У нас не было возможности поболтать на поминках Мэри Элис. Как ты поживаешь?
Бри страстно желала разделить всю правду о болезненном предательстве своего мужа,
но к сожалению для Бри, признание поражения даже не рассматривалось.
how (are) you doing? (spoken) – used when you meet someone to ask them if they are well, happy etc:
Hi Bob, how you doing?
сравните с:
how do you do? (spoken, formal) – used as a polite greeting when you meet someone for the first time – т.е. это не вопрос, а приветствие
– Great. Everything is just great.
– Okay, well I got you the honey mustard dressing; the ranch looked just a little bit suspect.
Замечательно. Все просто замечательно.
Ладно, вот, я взяла для тебя медово-горчичный соус. "Ранчо" выглядело немного подозрительно.
– Are we gonna talk about what I just said?
– If you think I'm gonna discuss the dissolution of my marriage in a place where the restrooms are labeled "chicks" and "dudes", you're out of your mind.
Мы продолжим разговор о том, что я сказал?
Если ты думаешь, что я буду обсуждать распад своего брака в месте, где на уборных таблички "цыпочки" и "чуваки", то ты выжил из ума.
dissolution [ˌdɪsə'luːʃ(ə)n] – the act of formally ending a parliament, business, or marriage:
The president announced the dissolution of the National Assembly.
– What's in this?
– What do you mean what's in this? It's salad.
– With… with onions?
– What?
– You put onions in my salad!!
– No, I didn't! Oh wait…
Что здесь?
Что ты имеешь в виду, Что здесь? Это салат.
– С … с луком?
– Что?
Ты положила лук в мой салат.
Нет, не клала. О, подожди.
Упражнения
Заполните пропуски.
Том, это мое пятое сообщение, а ты все еще мне не перезвонил.
Tom, this is my 5th message and you still haven't me .
Мамочка угрожает папочке.
Mommy's Daddy.
Так… как домашняя жизнь?
So… how's life?
Потому что я не хочу однажды проснуться с неожиданным желанием пустить себе пулю в лоб.
Because I don't wanna some morning with a sudden to blow my brains out.
Можно пойти поиграть, пока не принесли еду?
Can we go play our food gets here?
Я хочу развода.
I want a .
Бри страстно желала разделить всю правду о болезненном предательстве своего мужа,
но к сожалению для Бри, признание поражения даже не рассматривалось.
Bree to share the truth about her husband's painful , but sadly for Bree, admitting was not an option.

Смотрите продолжение серии.